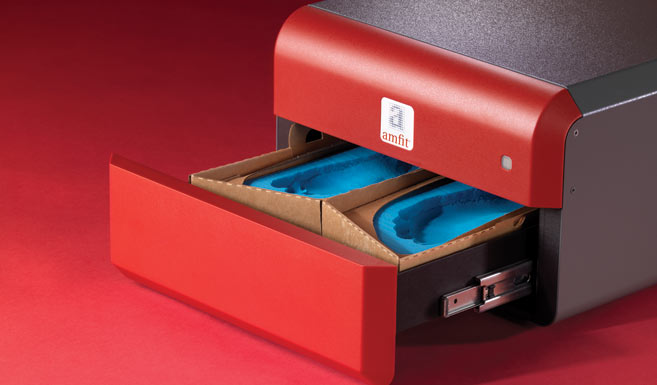 The Impress Foam Scanner uses laser technology to convert right and left foot foam impressions to 3D Amfit foot data files in about a minute. The pre-installed Correct and Confirm™ software enables the user to easily add modifications allowing for near limitless design possibilities to achieve perfect-fitting custom orthotics.  Once the design is complete users can send the digital data file to Amfit's Central Fabrication Lab for fabrication to exact specifications. With an on-site Amfit CAD/CAM Mill you have nearly immediate results with in-house fabrication.
The Impress Foam Scanner has a scanning accuracy of +/- 0.1 millimeter, which is less than the thickness of a business card. The added ability to work with most industry-standard foam boxes and positive models offers unmatched versatility.
The Impress Foam Scanner eliminates the following business concerns:
No need to create a plaster positive of the foam impression.
No large workspace required to pour the plaster and allow drying.
No more wasted time for cleanup, or plaster cast modifications.
And no more plaster positive storage space required..
Whether using the Amfit Impress Scanner with existing Amfit equipment or on its own, the Impress Foam Scanner will revolutionize the orthotic design process. It's a tool that consistently provides the best results for patients – and a company's bottom line.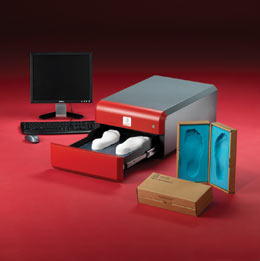 Impress Foam Scanner System
Item# 10S6000
Impress Foam Scanner
24" Flat Screen Monitor
USB Keyboard & Optical Mouse
Correct & Confirm™ Software (pre-installed)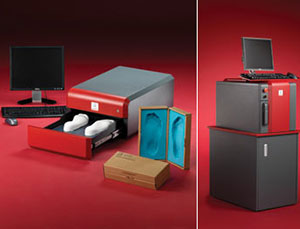 Impress Foam Scanner Fabrication System
Item# 10AIMPRESS
Impress Foam Scanner
24" Flat Screen Monitor
USB Keyboard & Optical Mouse
Monitor/Keyboard/ Trackball mouse
CAD/CAM Milling Machine
CAD/CAM Mill Stand
Correct & Confirm™ Software (pre-installed on both systems)